Books are a child's best friend. They provide hours of enjoyment and can be used to teach children about the world around them. Reading to children can also help them develop their imagination and improve their language skills.
There are many different types of books that are good for children. Some books are designed to teach children how to read, while others are meant to entertain them. Some books are educational, while others are simply for fun. It is important for children to have a variety of books to choose from, so that they can find the ones that interest them the most.
It is also important for children to have books that are appropriate for their age group.
Now; the main topic in this article – Fiction or Nonfiction?
There are pros and cons to both fiction and nonfiction books for children. It really depends on the child's preferences and interests. Some children might prefer stories that are make-believe, while others might prefer stories that are based on real life events. Some children might enjoy both types of books. There are many great fiction and nonfiction books for children that are enjoyable and educational. Ultimately, it is up to the parent or caregiver to decide which types of books are best for the child.
Personally; I tend to lean a little more on the fiction on this topic? Maybe it is because of my line of work; or maybe because fiction takes me to a place of indescribable wonder thus providing the inspiration i need to create. Know what I mean? And I always want to take the kids on that adventure with me! But hey, both fiction books and nonfiction ones are equally as important!
Now; what about recommendations?
I can only recommend fiction books, really. There are many great fiction books for children. A few of my favorites include "The Cat in the Hat" by Dr. Seuss, "The Very Hungry Caterpillar" by Eric Carle, and "The Lion and the Mouse" by Jerry Pinkney. These books are not only enjoyable for children, but they also teach important life lessons.
And we definitely want to close a page having learned more than just letters!
Stay Awesome!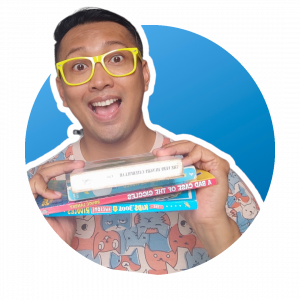 Much Love, Teacher Emil
Teacher Emil is the Founder & CEO of Stage for Kids Global & Inspiration for Kids International
Follow Teacher Emil on InspirationforKids.org, Youtube, Twitter @i_forkids & Stage for Kids Podcast!